Sportsbet.io Review
Bitcoin-led Sportsbook
Rewards for Regular Players
E-Sports and Virtual Sports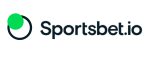 Deposit now
Sportsbet.io came into being in 2016 and have become a popular hub for people to bet on sports online. In this review, we will take a look at what this bookmaker offers players in India as well as how it compares to other betting sites for cricket.
A Closer Look at Sportsbet.io Betting
If you want to be a sportsbook that potential customers will take seriously, then you need to provide a wide variety of sports for people to bet on. Sportsbet.io India clearly know this as they provide their customers with markets for more than thirty different sports. However, since Indians love to bet on cricket more than any other sport, we will focus on what they have to offer to cricket fans.
Sportsbet.io Cricket Betting
When you enter the cricket page, you will find tabs that let you see what cricket matches are being played today, tomorrow or in the near future. The future tab doesn't go that far into the future, which is only really a big deal if you like to place your bets well in advance.
When it comes to global events, you will be able to find the Caribbean Premier League, the Ashes, the India Premier League, the Big Bash, the Vitality Blast and a large selection of 50 over, 20 over and test international matches. You can also bet on some women's cricket if you like. Obviously, when the ODI World Cup and Twenty20 World Cup come around, you will also be able to bet on those. So, whether you like one-day cricket or Test cricket, Sportsbet.io definitely has you covered.
Some popular cricket bets you can make include:
Predicting which team will win
The player that will top score in the match
The player that will pick up the most wickets
How many run-outs there will be
How many ducks there will be
How many runs will be scored in a certain over
How many extras there will be
Which team will have the highest score when they lose their first wicket
They are clearly a great place to bet if you love betting on cricket.
Does Sportsbet.io Have a Welcome Bonus?
Most online sports betting sites and casinos offer new players a welcome bonus as an incentive to sign up with their brand rather than their competitors. Sadly, Sportsbet.io does not currently have a welcome offer, but they do try to make up for that fact by offering competitive odds on cricket matches in a variety of markets. That means whether you think your favourite team will do the business against their rivals, you're interested in the big international games, or fancy a bet on something else, you can still get your fill of all the best cricket action and more. Plus, these things are always subject to change, so if we find out that their is a welcome bonus in the future, we will be sure to update this review and that you will be the first to know.
Sportsbet.io Bonuses and Other Promotions
Whilst Sportsbet.io does not offer a welcome bonus, the site does offer regular promotions for active players. That means you may not be able to claim any bonuses in the short term, but if you become one of their loyal customers, you could be in for promotional treats in the future.
Does Sportsbet.io Mobile Work?
Betting using mobile devices is something that is becoming more popular, so a sportsbook with a poor mobile site is a big deal breaker for many people. As a result, bookmakers need to ensure that their site is quick and easy to navigate when opened up on a mobile phone or a tablet. This is exactly what Sportsbook.io provides their customers with..
In fact, when you are using their site on a mobile device, you will receive the same great Gambling experience that you would if you were playing on your laptop or desktop computer.
Recently, Sportbet.io have released the official Sportsbet.io app. You can play sports, casino, and more. Currently, the app is only available for Android users, however, iOS users will not have to wait long for a compatible app!
What Payment Methods Are Available for Players at Sportsbet.io India?
Some bookmakers do not permit Indian players to deposit Indian rupees, which means that they often end up losing quite a bit of money when they convert to a currency that is accepted. Thankfully, Sportsbet.io are very happy to accept Indian rupees!
This is a list of all the different deposit methods accepted by Sportsbet.io India:
Sticky
Jeton Wallet
VISA
If you happen to choose an e-Wallet as your method of deposit, you can start betting straight away as the money will be credited to your account immediately. However, if you choose your Visa, you will have to wait a lot longer. As you can see, Sportsbet.io also accept Bitcoin as a payment method. In fact, they are run by the Coingaming Group and pride themselves as being the leading Bitcoin sportsbook. You can even use Bitcoin if you don't have a Bitcoin wallet as you can deposit using any other method and the money will be automatically transferred into Bitcoins.
Sportsbet.io take the threat of fraud and money laundering very seriously, which is why they require all new customers to verify their accounts. A number of restrictions, such as the inability to withdraw money, will apply until you have sent them the required documents.
So, what documents do they require? Well, in order to verify your identity, they require a copy of photo identification with your details clearly displayed. The following are acceptable proofs of identity:
Passport
National ID card
Driving licence
Simililarly, you will need to identify your address. You may use any of the following documents in order to do so:
Bank statement
Credit card statement
Utility bill
Tax letter
If you come across any problems when verifying your identity and address, contact customer care and they will try and help you out as best as they can. In order to speed up the process, make sure that the scans are clear and that they can easily see the relevant information that they need. Like with other bookmakers, if Sportsbet.io believe that you are not of a gambling age, your deposited money will be given back to you and your account will be locked. They will act on any suspicion that they have, no matter how small, as they can lose their licence if they are found to be accepting underage players.
Once they are happy with the documents that you have sent them, they will verify your account and all restrictions in place will be lifted. You will now be able to withdraw money from your account. If you are making use of an e-Wallet, payouts will be fast and will be completed in as little as two to three hours, but if you decide to use your Visa, the withdrawal process won't be as fast and the money will only be visible in your bank account after around five working days.
Security, Fairness and Responsible Gaming
It is natural to be a bit cautious when giving over your banking details and personal data to an unknown entity, but you can kick that worry to the curb when it comes to Sportsbet.io as they use solid encryption technology to ensure that all of their customers' important data is kept out of the hands of cybercriminals.
To add to this, they have a licence from the Curacao Gambling Commission, which is a very respected Gaming authority. This company does not hand out licences to Gaming sites unless they absolutely deserve them, so when you come across a site that is displaying such a licence, you can be certain that they are a fair and secure place to gamble.
Sportsbet.io's main aim is to provide their customers with a regulated and secure environment that will allow them to experience a rewarding Gambling experience. They encourage their customers to enjoy themselves, but not to let their gambling get in the way of their daily life. They know that many customers do gamble for fun, but they are also aware that a minority can become addicted to gambling.
As a result, they have a self-exclusion programme in place that can help any customers with Gambling issues to overcome them. If you think that you have a Gambling problem, you can discuss it with their customer support agents. By request, they can then block your access to your account for one week, one month, or six months. Once you have settled on an exclusion period, you cannot terminate it for any reason. In other words, if you decide on a six-month exclusion period, you will be locked out of your account until exactly six months have passed.
Sportsbet.io Customer Support
It is safe to say that a bookmaker with extremely poor customer care will not last long in the extremely competitive Gambling world. So, what type of customer care does Sportsbook.io provide their customers with? Well, it isn't the best around, but it certainly isn't the worst either. They allow their customers to contact them via live chat or email, which is fine.
However, their response time can be a little slow at times, especially when it comes to live chat. A live chat feature is meant to give you instant access to a customer support agent, but you sometimes have to wait a number of minutes before you get a reply from one of their agents. So, if a slow customer service is something that really annoys you, it is probably best if you look elsewhere.
Sportsbet Online Casino
Although they started off as a bookmaker, Sportsbet.io is also a great place for those who like to play at online casinos as well. At the sportsbet.io casino you will find games from some of the best Gaming developers around such as Evolution Gaming, Betsoft, and Pragmatic Play.
If you love to play table games, then you will be happy to hear that you can find a variety of Blackjack, Poker, Baccarat and Roulette games. If you prefer to play Slot games instead of table games, then you have over 150 great games that you can choose from. Here you are able to filter the games based on their popularity, who they were made by, or alphabetically, making it a lot easier to find the Slot games that you are looking for.
If you are looking for a real-life gaming experience, you can head on over to the Sportsbet Live Casino. When you look at the design of their live lobby and the dealers present at each table, you can tell straight away that they have put a lot of effort into this section of their site. Here you will be able to find live Roulette, Blackjack, Poker, and Baccarat by some of the best game developers such as Evolution Gaming, Red Tiger, Asia Gaming, and One Touch.
At this moment in time, you will be disappointed to find out that they do not have a Welcome Bonus for anyone who wants to sign up to their online casino. However, we are hopeful that they will add one in the near future.
Is It Worth Creating an Account At Sportsbet.io?
Sportsbet.io is a simple-looking site that is easy to navigate and provides a great gaming experience both on desktop and mobile devices. They offer regular promotions for active players to ensure that life never gets boring. To add to this, they have a wide range of cricket betting markets and provide very competitive odds. Furthermore, they give Indian players a number of different deposit methods and are more than happy to accept Indian rupees.
One of their only downsides is their customer support, which can be quite slow at times. However, if this isn't a huge deal-breaker for you, you will still enjoy creating an account with this sportsbook.
✅ Provides a great desktop and mobile experience
✅ Very good welcome bonus and promotions
✅ Very competitive cricket odds available
Frequently Asked Questions about Sportsbet.io India
⚖️ Is Sportsbet.io Legal in India?
When you are thinking about signing up with a new sportsbook you should obviously find out whether they are legal or not in the country that you are going to be gambling from. Most types of gambling are illegal in India, but the government cannot prevent its citizens from gambling at betting sites that are not based in the country. Thus, you will not get in trouble for playing at Sportsbet.io.
💰 How Do I Withdraw Money from Sportsbet.io?
Withdrawing money from Sportsbet.io really could not be any simpler. All you need to do is head on over to their cashier page, enter the withdrawal section, choose your preferred method of withdrawal, and then enter the amount that you would like to withdraw. Your request will be processed, and your money will be sent to you.
🎁 Can I Get a Welcome Bonus on Sportsbet.io?
Nowadays, the online gambling industry is so fierce that sportsbooks have to offer enticing Welcome Bonuses in order to encourage new customers to sign up with them. Sadly, there is no such offer available with Sportsbet.io, but promotions are always subject to change and we will let you know if they offer one in the future.
📥 What Is the Best Way to Deposit Money on Sportsbet.io?
The truth is that there is no correct answer to this question. At the end of the day, the best way to deposit money at any sportsbook is whatever method you are most comfortable with. What might be a great method for one person might not be a great method for another.
💵 Does Sportsbet.io Accept Indian Rupees?
Sometimes you will come across a bookie that are willing to accept players from India but are not willing to accept Indian rupees. This can be quite annoying as it then means that you have to pay conversion fees. You will be glad to hear that Sportsbet.io are more than happy to accept Indian players and Indian rupees.
Enjoy more of the best online bookmakers for cricket. Hit the links below to read other reviews: